Home Care Services

 Durable Medical Supplies Store:
26 W 200 N – Roosevelt, Utah
Home Health & Hospice:
187 W Lagoon St – Roosevelt, Utah
COVID-19 Notice: Our Lagoon Street building is currently secured with no public access. If you need an in-vehicle flu shot, please park in the designated area and call (435)722-2418 *option 2.
SERVING THE ENTIRE UINTAH BASIN!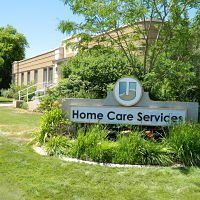 Welcome to Uintah Basin Healthcare Home Care Services. We welcome the opportunity to assist you and/or your loved ones. Home Care Services staff is available 24 hours a day, seven days a week. We offer a staff of nurses, Physical Therapists, Occupational Therapists, Respiratory Therapists, volunteers, homemakers, delivery drivers, a social worker and a chaplain to provide the comprehensive care that you need. We want you to be fully satisfied with your home care. Should you have a question or concern, please call the HCS Manager at (435) 722-2418.
HOME HEALTH
Care can be offered to all age groups from the very young to the very old. With the support of a loving family and services from our agency, we can offer an alternative to a nursing home for the aged, institutionalization for the handicapped, or a rehabilitation center for post-surgery and hospitalized patients. Generally, home care is appropriate whenever a person prefers to stay at home but needs ongoing care that cannot effectively be provided by family and friends.
Services include:
In Home IV Therapy
Wound Care
In Home Physical Therapy &
Occupational Therapy
Lab Draws
Teaching and Education
Medication Management
PICC Line Maintenance
Feeding Tube Teaching / Maintenance
HOSPICE
Hospice care provides medical, psychological, emotional, and spiritual care to patients with terminal illness, as well as to their family. Hospice can help a patient remain at home in a supportive environment with quality medical care to manage pain and symptoms. The hospice team will develop a care plan to meet the needs of the patient and the family.
Services include:
Pain Management
Comfort Measures
Respite Care
Aide Services
Social Work/Chaplain
Volunteer Services
Bereavement
Coordination of Services
EQUIPMENT
We offer complete rental, sales, and services for home care service needs. Visit our store in Roosevelt or call to schedule a consult for delivery needs.
We strive to help our patients feel secure and comfortable in their home setting. Our Home Care Services staff is trained in Customer Service, Respiratory Therapy, and Nursing Services.
Our trained personnel provide services that encompass areas such as:
Bathroom Safety
Oxygen Therapy
Urological Supplies
Nebulizer Machines
CPAP Therapy
Light-Lux Therapy
Tracheostomies
Enteral Supplies
Diabetic Supplies
Incontinence Supplies
Colonostomy Supplies
Rescue Alerts
Ambulatory Aids
(Walkers/Basic Wheelchairs/Canes)
Our goal is to always provide the highest quality of care. Special ordering is available to target any equipment need in the home care setting. Please contact one of our Customer Service Representatives today to inquire about any home care equipment needs.
Additional Information
You can reach us at 435-722-2418 or 1-800-874-8244 during working hours. After hours and weekends call 435-722-4691.