Cancer Care & Infusion Services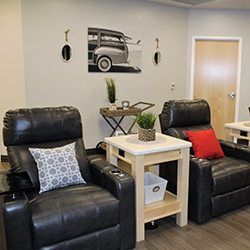 Our Cancer Care & Infusion Services Center is open daily 8:30 AM – 5:30 PM in Clinic #1, Suite 100.
CANCER CARE
Bringing Care Closer to Home:
We've partnered with Intermountain's Oncology specialists via TeleHealth. From early detection to treatments, including chemotherapy and care planning, Intermountain Healthcare oncologists provide individualized support and medically-advanced care. These specialists are able to visit with Uintah Basin Healthcare patients and caregivers via video, reducing the need for you or your loved ones to travel long distances to receive care.
How Does It Work?
Intermountain's TeleHealth programs provide patients with more options to access the care they need, no matter where they are. UBH care teams will connect you and your loved ones with Intermountain clinicians using secure, video visit technology.
About Intermountain TeleHealth Medical Oncology Services:
The Telehealth Medical Oncology program is an integral part of the Intermountain Cancer Care Program and has safely provided treatment to thousands of patients since its inception in 2015. Our patients and caregivers have avoided over a quarter million miles of travel, and over $275,000 in savings. Plus, of course, the priceless value of receiving nationally recognized quality of care while staying close to home. The Intermountain Cancer Care team offers the largest, most in-depth network of leading cancer specialists in Utah, and produces medical outcomes significantly better than the national average. The unique collaborative team approach to care provides support for patients through each step and is a core part of telehealth enabled care models.
For More Information:
Call your local Cancer Care Team at Uintah Basin Healthcare at (435)247-4298 or visit https://intermountainhealthcare.org/About/Transforming-healthcare/Pro/ for more information on TeleHealth and other healthcare topics.
Infusion Services
Our Infusion Centers (in both Vernal and Roosevelt) offers short and long-term therapy in a comfortable setting. Our centers provides quality care to patients who may not require hospitalization. Patients are admitted directly from physician offices, emergency departments, or other hospitals, and are monitored by a team of expert clinicians with extensive education in outpatient services.
The facilities offer comfortable power recliners with charging ports, complimentary wi-fi, warm blankets, and optional ambulatory pumps for home use.
Services offered at Uintah Basin Healthcare Infusion Services:
Antibiotic Infusion – Antibiotics are administered directly into the bloodstream through and IV line. This makes it possible for more of the antibiotics to arrive at the infection site more quickly and in larger amounts.
IV Hydration– This therapy flushes your body with clean fluids and helps improve the functioning of your organs.
Tysabri Remicade-Tysabri is used on patients suffering from a relapse in multiple sclerosis and is only taken after failed results from other treatments. It is known to reduce flare-ups, slows down the progression of physical disability, and reduces the chances of new brain lesions and any new activity. Tysabri is also used to treat Crohn's disease by reducing signs and symptoms. Tysabri is primarily used to treat Crohn's disease in patients who have not experienced desired results with other medicines, primarily tumor necrosis factor inhibitors.
Venofer – Is used for the treatment of iron deficiency anemia in patients with chronic kidney disease.
Aredia – Aredia (pamidronate disodium) is a bisphosphonate used to treat high levels of calcium in the blood related to cancer (also called hypercalcemia of malignancy), and is also used to treat Paget's disease of bone. Aredia is used to treat bone damage caused by certain types of cancer such as breast cancer or bone marrow cancer.
Blood Transfusion – A blood transfusion is a routine medical procedure in which donated blood is provided to you through a narrow tube placed within a vein in your arm.
Epogen – EPOGEN® is a prescription medicine used to treat a lower than normal number of red blood cells (anemia) caused by chronic kidney disease in patients on dialysis to reduce or avoid the need for red blood cell transfusions.
Neupogen – A prescription medicine that is used to stimulate the growth of white blood cells.
IV Immunoglobulin Therapy – Immunoglobulin is part of your blood's plasma. It has antibodies in it to fight germs or disease. When people donate blood, this part can be separated out. Then it can be given to you through a vein in your arm, or IV. If you get IVIg, it can help strengthen your immune system so you can fight infections and stay healthy.
Zometa – A drug used alone to treat hypercalcemia (high blood levels of calcium) caused by cancer and with other anticancer drugs to treat multiple myeloma and cancers that have spread to the bone.
PICC Line Insertion & Maintenance – A peripherally inserted central catheter (PICC), also called a PICC line, is a long, thin tube that's inserted through a vein in your arm and passed through to the larger veins near your heart. Very rarely, the PICC line may be placed in your leg.
Uintah Basin Medical Center now provides an extra level of support to cancer patients in the Uintah Basin with access to experts in the field of oncology through the expansion of a partnership with Intermountain Healthcare. Using TeleHealth technology, including high-definition cameras, monitors, and audio equipment, clinicians in Roosevelt and Vernal can quickly connect with Nikil Moodabagil, MD, and his team of oncology specialists at Intermountain HealthCare 24 hours a day, 7 days a week.
To learn more call our UBH Cancer Care Team at (435)247-4298.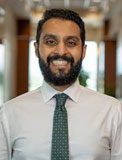 Dr. Moodabagil originally grew up in Phoenix, AZ but his medical training has taken him across the country; from Beantown to The Big Easy to Music City. 
He is passionate about quality and patient safety, having led improvement projects encompassing inpatient lab draws, end-of-life care, inpatient sleep quality and interdisciplinary tumor board meetings. He prides himself on having good bedside manner and being approachable with questions or concerns. Benign hematology is his area of clinical interest. 
He lives in Salt Lake City with his wife, Leslie, and their dog, Samson. He enjoys cooking, reading, listening to podcasts, and hiking. He's looking forward to skiing again and learning curling. 
Roosevelt
250 W 300 N Clinic 1, Ste 100
Vernal
405 N 500 W Building 3, Ste 101
Call 435.247.4298 to schedule or learn more.