Surgery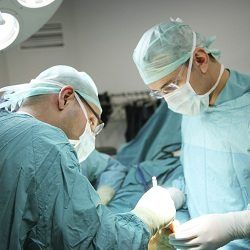 UBMC offers surgical specialties in the following areas: general, obstetrics/gynecology, orthopedics, ophthalmology, otorhinolaryngology, and urology. In addition to these services, we have a well equipped endoscopy lab.
State-of-the-art laparoscopy equipment is utilized for many of the surgeries performed everyday at UBMC. These procedures create easier, faster recovery times for our patients. The majority of our surgical patients are cared for in our new same day surgery area and leave for home within hours after their procedure.
When scheduled for surgery at UBMC, one will need to complete lab work and other tests such as EKGs and x-rays if necessary. To better facilitate a patient on the day of surgery, these tests should be performed at least 1-3 days prior to the scheduled surgery. The patient will also be instructed to call the OR Department at least 1 day in advance of the surgery to confirm the operation. At that time the patient will be given any necessary instructions and directions pertaining to that particular case.

UBMC has launched the new EASE Application for all surgical patients in an effort to create transparency and enhance communication between clinicians and loved ones. Updates may now be sent through EASE's HIPAA-compliant app, which allows clinicians to send custom messages to provide milestone, snap-shot surgical updates. The optional and complimentary service is offered to all surgical patients. During the quick registration process, patients can invite an unlimited amount of family members and loved ones to also receive the updates. EASE is able to connect family members and loved ones anywhere throughout the United States. Once registered, nurses connect the patient's family members and loved ones through the seamless scanning of the patient's medical bracelet. From there, nurses are able to send secure, one-way updates in a matter of seconds to the patients' designated family members and loved ones.
VIDEOS: Post-Surgery Discharge Instructions
Mako Robotic – Arm Assisted Surgery