Wound Care & Hyperbaric Medicine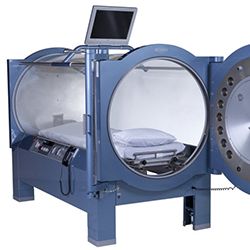 200 W 350 N (Clinic #2, Ste 105)
Roosevelt, UT 84066
Call 435.725.2015
Appointments available Monday-Friday, 8:00 AM – 4:30 PM.
Medical Director: Dr. John Blake
Program Director: Gayleen Denney, BSN, RN
Awards:
2021 West Area 02 Championship Belt (CHR)
2020 Healogics Center of Distinction
2020 Healogics Clinical Excellence Award
2019 Healogics Center of Distinction
2019 Healogics Clinical Excellence Award 
We are honored to be recognized for our high performance and patient satisfaction, and to be ranked in the top 10% in the nation for our healing outcomes! In addition, we are ANCC (American Nurses Credentialing Center) accredited, which recognizes our excellence in nursing and patient safety.
JULY 2021 Education: Summertime Wounds
About Us:
In addition to leading edge treatments including negative pressure wound therapy, bio-engineered tissues, biosynthetic dressings and growth factor therapies – our Wound Center offers Hyperbaric Oxygen Therapy, which works by exposing the patient to 100 percent oxygen to help support the healing process.
Hyperbaric Oxygen Therapy (HBOT) is used to treat more than a dozen medical conditions including foot ulcers, radiation injuries to tissue and bone, necrotizing infections, compromised skin grafts and skin flaps, some types of arterial insufficiency and ischemia.
There is no need for patients to live with non-healing wounds for unnecessary prolonged amounts of time. Patients must realize that If left untreated, chronic wounds can lead to diminished quality of life and possible amputation of the affected limb. Receiving proper treatment is crucial.
Chronic wounds affect approximately 6.7 million people in the United States. 1 in 4 family members are affected, and that number is expected to rise at a rate of 2% annually over the next decade. We can help.
Our proven care is covered by most insurance plans and Medicare. Talk to your provider or call us for an appointment today.
Wound Clinic Services: 
Wound Consultation / Evaluation – Diagnostic and ongoing assessments, and treatment
Non-invasive vascular studies (Ankle Brachial Index ABI,  Trans-Cutaneous Oximeter Monitoring TCOM)
Specialty wound dressings
Bio-Engineered Tissues ('Skin Substitutes / tissue graft')
Compression therapy
Wound Cultures, Debridement, and Biopsies
Treatment of wound, skin, and bone infections, including antibiotic therapy
Patient and family education to improve outcomes & minimize re-occurrences
Pressure off-loading devices and footwear
Wound VAC (Negative Pressure Wound Therapy)
Hyperbaric Oxygen Therapy (per UHMS indications)
To learn more: