Physical & Occupational Therapy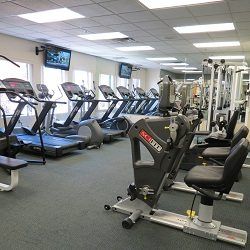 Physical Therapy
In physical therapy, also known as PT, trained professionals evaluate and treat abnormal physical function related to an injury, disability, or other health condition.
Physical therapists are trained and licensed movement experts. They can diagnose and treat a range of injuries, disabilities, and health conditions.
Physical therapists aim to improve a person's range of movement and quality of life and prevent further injury or disability.
Schedule an appointment by calling 435-722-6186.
Hours:
Main Location: M-F, 7 AM – 5 PM
Occupational Therapy
Occupational therapy (OT) is a branch of health care that helps people of all ages who have physical, sensory, or cognitive problems. OT can help them regain independence in all areas of their lives.
Occupational therapists help with barriers that affect a person's emotional, social, and physical needs. To do this, they use everyday activities, exercises, and other therapies.
Schedule an appointment by calling 435-722-6186.
Hours:
Main Location: M-F, 7 AM – 5 PM
UFitness  (Outpatient)
1635 US-40
Roosevelt, UT 84066
(435)722-6186
UBMC Main Location (Inpatient)
250 West 300 North
Roosevelt, UT 84066
(435)722-6186
Duchesne Clinic
50 East 200 South
Duchesne, UT 84021
(435)722-6186 (to schedule)
The Villa (Uintah Basin Rehabilitation & Senior Villa)
300 W 265 N
Roosevelt, UT 84066
(435)722-2497
WE ARE OPEN! Call (435)722-6186 for details.
All members must clean the equipment they use before and after each use.
Calendar of Events

Click here to see the class schedule for UFitness Gym.

Can Physical Therapy help COVID patients?
One study suggests that physically active people have lower odds for severe problems and death from COVID-19. Physical therapy for people recovering from COVID-19 can help restore muscle function and benefit mental health. Research also shows that physical activity reduces the risk of anxiety and depression.
We Specialize in Treating Conditions in the Following Areas
sports medicine
pre and post-operative orthopedics
neck and back pain including headaches
neurological rehabilitation and pain management
work injuries
balance and gait training
vertigo and dizziness
dry needling
mechanical traction for the neck & back
Mission 
At UBMC Physical & Occupational Therapy Services, our mission is to provide the best care possible and to ensure that each patient receives the treatment he or she needs to reach his or her rehabilitation goals. Each of our physical and occupational therapists have received the training and developed the skills to treat a wide array of conditions in a variety of settings.