Laboratory Services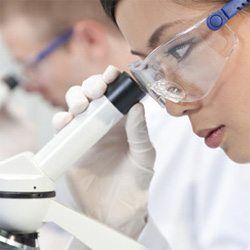 Lab Services
Our laboratory's primary goal is to offer superior testing with a personalized service. UBMC's laboratory has state-of-the-art equipment with experienced staff accomplishing over 200,000 tests yearly. Specialized departments within the laboratory include hematology, chemistry, microbiology, blood bank, pathology, and histology.
The Uintah Basin Medical Center Laboratory is CAP Accredited. We ensure the highest standard of care for all laboratory patients. We have been approved by CAP inspectors who examine laboratory staff, qualifications, equipment, facilities, safety program and record, and overall management.
BE PREPARED!
A doctor's order is required for us to draw and test your blood.
Drink plenty of fluids before coming to the lab. Be well hydrated!
Call ahead to see if fasting is necessary for your tests. Fasting means no food or drink, with an exception of water. A 10-12 hour fast is recommended.
JUST SO YOU KNOW!
The best place to get your lab results is from your doctor. This way your doctor can explain any concerns he/she may have and answer any questions that you may have.
The majority of laboratory tests can be done the same day. Some tests do take longer.
No appointment is required. Just walk in!
We are open 7 AM – 7 PM daily in Roosevelt, even on the weekends and holidays! However, if you need us before or after normal operating hours, just call to let us know you are coming in.
We are also open in the Basin Clinic (Vernal) M-TH 8 AM – 5 PM, and Friday 8 AM – 1 PM. The Urgent Care Lab (Vernal) is open M-F 8 AM – 9 PM and Saturdays 9 AM – 6 PM.
The UBMC Roosevelt Lab is located at 250 W 300 N… near the hospital lobby. Our Vernal lab is located at 379 N 500 W.
ROOSEVELT LAB: (435)722-6198
VERNAL BASIN CLINIC LAB: (435)789-0874
VERNAL URGENT CARE LAB: (435)789-0865