Our Healing Model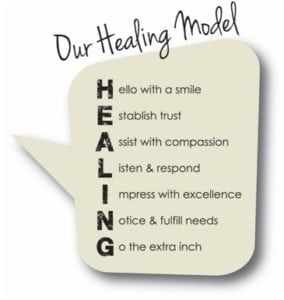 It is our mission to promote health and healing…every person, every time.
At Uintah Basin Healthcare, we believe a healing environment where PATIENTS COME FIRST is essential to provide outstanding and compassionate care. Our HEALING MODEL was established to guide our staff in daily interactions. As a team, we are expected to learn it and live up to it. We welcome your feedback as we continually strive to improve the patient experience.
Acknowledge an Employee
Were you "wowed" by a member of our team demonstrating a characteristic in our HEALING MODEL?
Submit a Suggestion for Improvement
What could we have done to exceed your expectations?
WE HEAR U. COMPLETE OUR 7-QUESTION SURVEY & YOU MAY BE THE WINNER OF OUR MONTHLY DRAWING!