Our President/CEO
Jim Marshall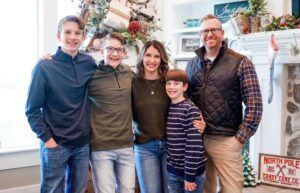 Jim Marshall has been the President & CEO of Uintah Basin Healthcare (UBH) since August of 2014.
Prior to his time at UBH, Jim was the President of CHI Mercy Hospital in Devils Lake, ND and formerly the CEO of Sakakawea Medical Center in Hazen, ND. Prior to this Jim worked as the Director of Occupational Medicine and Urgent Care Clinics for CHRISTUS Schumpert Health System in Shreveport, LA.
Jim is a Board-Certified Fellow of the American College of Healthcare Executives, FACHE, earned his Master of Business Administration degree from the Frost School of Business at Centenary College of Louisiana and his Bachelor of Science in Business Management from Brigham Young University Idaho.
Jim and his wife, Jessica have three sons, Preston, Nathan and Owen. Jim enjoys spending time with family and friends, aviation, woodworking, fly fishing, biking, and snowboarding. Jessica enjoys spending time with family and friends, hiking, traveling, snorkeling, and reading. Their three boys are very active and enjoy playing with friends, riding motorcycles and ATV's, camping and gaming.
When asked what he is most passionate about at UBH, he responded, "I am a very mission driven leader and I want to leave a lasting impact in the Uintah Basin. As a not-for-profit organization UBH's Mission, Vision, Values and local Board of Directors provide me with the purpose but also the flexibility to be creative in how we care for and invest in our communities. We have made significant investments in critical areas that I believe have and will continue to improve the health and wellbeing of our community. I'm driven to ensure that UBH will be the most advanced and comprehensive rural healthcare systems for a community of our size in the United States; thereby elevating the overall health of our patients through access to exceptional healthcare services close to home."