Surgery: Mako™ Robotic – Arm Assisted Surgery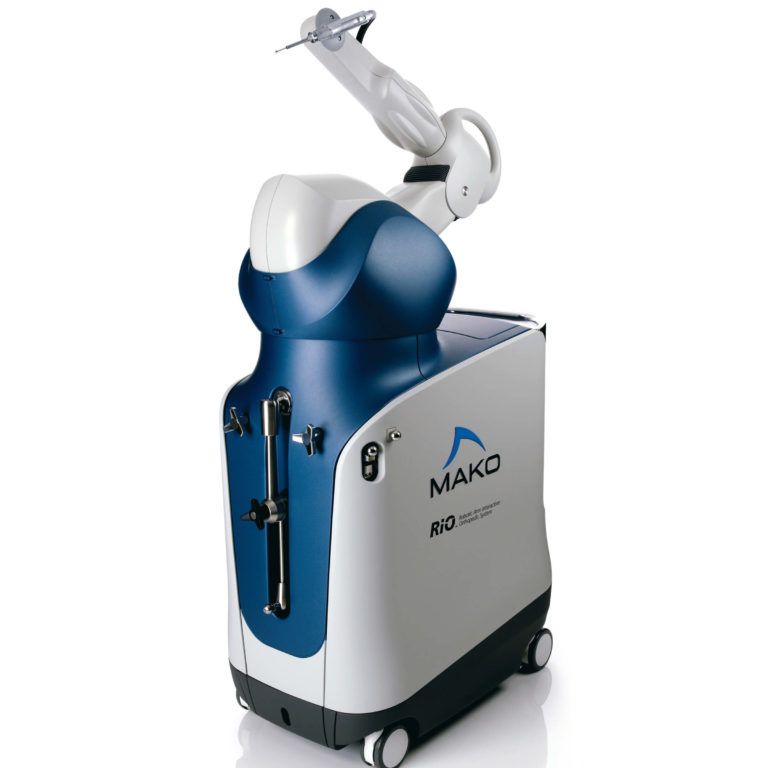 Surgery: Mako™ Robotic – Arm Assisted Surgery
What is Mako™ Robotic – Arm Assisted Surgery?
Mako™ Robotic – Arm Assisted Surgery for partial and total knee replacement, and total hip replacement uses advanced surgeon-controlled robotic arm technology that enables a high level of accuracy.
This patient-specific procedure is tailored to your anatomy, optimizing joint movement and accelerating your return to an active lifestyle.
Benefits may include: unparalleled precision, smaller incisions, less painful recovery time, increased joint functionality and more.
[vimeo 343278329 w=800 h=481]
"MAKOplasty was the best decision I've ever made" from MAKOplasty
Total Knee Replacement
Uintah Basin Healthcare (UBH) is the first hospital in the region, and one in only five in the state, to offer Stryker's robotic-arm assisted total knee application for use with its Mako System. This latest advancement in joint replacement surgery transforms the way total knee replacements are performed.
The Mako Total Knee application is a knee replacement treatment option designed to relieve the pain caused by joint degeneration due to osteoarthritis. Through CT-based 3D modeling of bone anatomy, surgeons can use the Mako System to create a personalized surgical plan and identify the implant size, orientation and alignment based on each patient's unique anatomy. The Mako System also enables surgeons to virtually modify the surgical plan intra-operatively and assists the surgeon in executing bone resections.
Click Here For More Information on Mako Total Knee Replacement
Partial Knee Replacement
Partial Knee Replacement is a treatment option for adults living with early-to mid-stage osteoarthritis (OA) that has not progressed to all three compartments of the knee. Mako™ Robotic – Arm Assisted Surgery Partial Knee Replacement is an advanced treatment option. It is powered by the RIO® Robotic Arm Interactive Orthopedic System, which allows the surgeon to perform surgery accurately through a smaller incision as compared to manual procedures. By selectively targeting the part of the knee damaged by OA, surgeons can resurface the knee while sparing the healthy bone and ligaments surrounding it.
Mako™ Robotic – Arm Assisted Surgery Partial Knee Replacement Benefits May Include:
Preservation of healthy tissue and bone – only diseased portions are removed
Optimal implant positioning
Less pain
A more natural feeling knee following surgery
More rapid recovery and shorter hospital stay compared to traditional total knee replacement surgery
Total Hip Replacement
Mako™ Robotic – Arm Assisted Surgery Total Hip Replacement is a breakthrough solution for adults suffering from painful degenerative joint disease of the hip who need a total hip replacement. It is powered by the surgeon-controlled RIO® Robotic Arm System, which enables more accurate implant placement, which may reduce complications, such as implant wear and dislocation.
Mako™ Robotic – Arm Assisted Surgery Total Hip Replacement Benefits May Include:
Accurate placement of your hip implant, which can reduce the likelihood of hip dislocation
More consistency in leg length, potentially decreasing the need for a shoe lift
Decreased risk of impingement and dislocation; this may improve the life expectancy of the hip replacement
Learn more.
CLICK HERE to learn more by visiting the Stryker/Mako website.
Schedule a consult today.
Please call our Orthopedic Physicians:
Dr. Gordon Olsen (435)725-7480
Appointments available in Roosevelt & Vernal.
Uintah Basin Healthcare is the only hospital in the Uintah Basin Region to offer Mako Robotic – Arm Assisted Surgery.
IMPORTANT INFORMATION
MAKO Robotic-Arm Assisted Surgery offers an innovative approach to improve surgical outcomes for partial knee and total hip replacement procedures through greater surgical precision than traditional methods. However, individual results may vary. There are risks associated with any surgical procedure, including MAKO Robotic-Arm Assisted Surgery. Your doctor can explain these risks and help determine if MAKO Robotic-Arm Assisted Surgery is right for you.