Dietary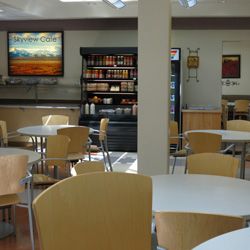 Skyview Cafe / Cafeteria Hours
Monday – Friday 7:00 AM – 6:30 PM
Breakfast: 7:00 AM – 10:00 AM
Lunch: 11:30 AM – 1:30 PM
Dinner: 5:30 PM – 6:30 PM
The Skyview Cafe is open all day with salads, sandwiches, beverages, snacks and desserts available. Weekends and holidays are open for lunch only.
Check Café Calendar for more details.
Registered Dietitian Information:
Jacqueline Humpherys, RD is available for consultation in Clinic #1, Suite 201.
To schedule a Nutrition Counseling appointment provided by a Registered Dietitian,  please call the Family Practice Clinic (435) 722-6130.  
Registered Dietitians provide education and resources for prediabetes, diabetes, cardiac, renal, tube feeding, eating disorders, weight control, bariatric, cirrhosis, and many other nutrition related needs.