August: Children's Eye Health/Safety Month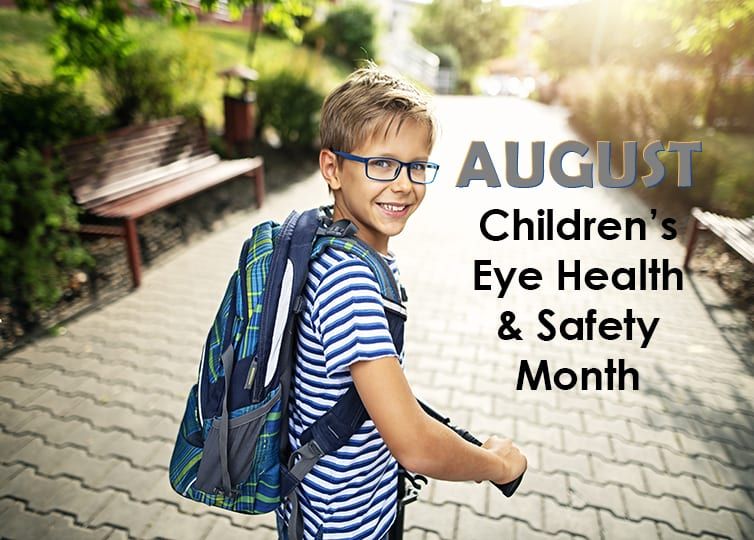 Whether your kids are going back to school or choosing virtual learning, it's a great time to schedule an eye check-up.  Good vision and overall eye health are vital to learning. 
Because children are still growing, being vigilant about eye health is important. The earlier problems are identified, the sooner they can be addressed. The American Academy of Ophthalmology suggests vision screenings for children when they are:
pre-school age, between 3 and 3 ½ years old
entering school
experiencing a possible vision problem
An ophthalmologist can help detect refractive errors such as nearsightedness, farsightedness and astigmatism as well as diseases such as amblyopia (lazy eye), strabismus (crossed eyes), ptosis (drooping eyelid) or color blindness.
There are some specific warning signs that may indicate that your child has a vision problem. Some of these include:
A family history of childhood vision problems
Wandering or crossed eyes
Disinterest in reading or viewing distant objects
Squinting or turning the head in an unusual manner while watching television
The need to move closer to, or distance from objects to see clearly
Eye safety is another part of maintaining healthy vision. When children participate in sports, recreation, crafts or home projects, it's important for them to understand eye safety practices and use appropriate protective eyewear. Each year thousands of children sustain eye damage or even blindness from accidents at home, at play or in the car. The majority of all eye injuries can be prevented through use of suitable protective eyewear. In addition, only purchase age-appropriate toys for your children and avoid toys with sharp or protruding parts.
"Good vision is vital to success in and out of the classroom. Keeping up to date on vision screenings and taking simple precautions can help ensure kids are healthy and ready for the school year" stated Shane Powell, MD.
Help your children have a successful school year by scheduling a comprehensive eye exam and taking safety measures to ensure their eyes are free from injury. To schedule an appointment in Roosevelt or Vernal, Call Shane Powell, MD (Ophthalmologist) at (435)725-2020 or (435)781-2030.