July 2021: UBMC has a new Spect/CT!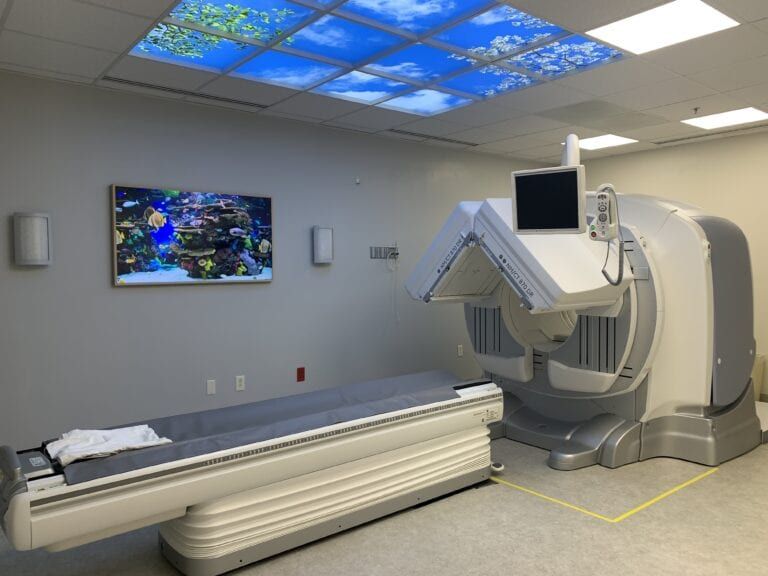 A SPECT/CT is a combination of a SPECT (Single Photon Emission Computed Tomography) scan with a CT (Computed Tomography) scan. A SPECT scan is a type of nuclear medicine test that uses a radiotracer (a special contrast agent) that is injected through your vein. A CT scan uses X-ray radiation to provide thorough images of the structures inside your body (anatomy).
By integrating both of these exams, the technology creates a very detailed and informative study by showing both your anatomy and physiology. The combination of both the SPECT and CT are used to help avoid, detect and treat an assortment of abnormalities within the body. Many times a SPECT/CT can identify the disease, even at its early stages before other imaging exams.
Types of SPECT/CT and traditional Nuclear Medicine imaging we provide:
Bone
Three Phase Bone 
Whole Body Bone
Cardiology
MUGA
Myocardial Perfusion (with attenuation correction)
Endocrine
Parathyroid/4D
Thyroid
Sentinel Node (Lymph Node Imaging)
Gastrointestinal
Gastric Bleeding
Gastric Emptying
HIDA (Hepatobiliary)
Lung
Lung Perfusion and Ventilation
Renal 
 Visit www.ubh.org/radiology for more information.